Seagrass Conservation Working Group
Community Based Stewardship & Citizen Science
We work throughout British Columbia. Click the links on the map below to find a group in or near your community or contact us and we can point you in the right direction.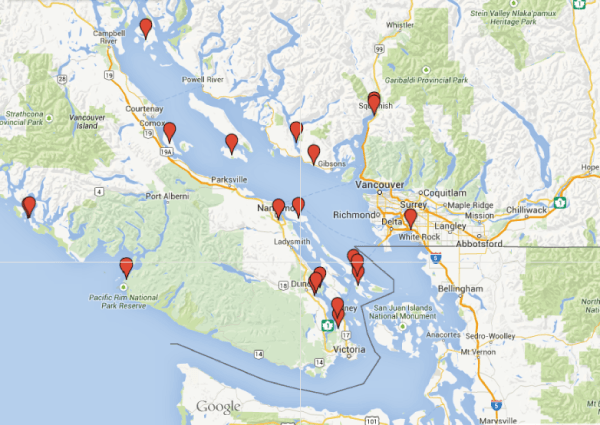 …
Community mapping is vital to our success. Harnessing the power of citizen scientists allows SCWG to map eelgrass beds throughout British Columbia, in partnership with community groups from conservancies to First Nations.
Community Eelgrass Mapping Initiative Participants:
For more information for these areas, contact us.
Quadra Island • Cortes Island • Gabriola Island • Saturna Island • Lasqueti Island • Pauquachin First Nation • Tsleil-Waututh Nation • Squamish First Nation • Snuneymuxw First Nation • Cowichan First Nation • Shishalh (Sechelt) First Nation
.
"the most crucial, climate-combating coastal ecosystems cover less than 0.5% of the sea bed. But they are disappearing faster than anything on land and much may be lost in a couple of decades. These areas, covering features such as mangroves, salt marshes and seagrasses, are responsible for capturing and storing up to some 70% of the carbon permanently stored in the marine realm." -2009 Blue Carbon Report: GRID-Arendal, UNEP, UN FAO, UNESCO International Oceanographic Commissions